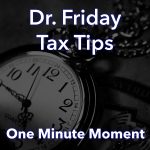 Dr. Friday 0:00
Good day. I'm Dr. Friday, President of Dr. Friday's Tax and Financial firm. To get more info go to www.drfriday.com. This is a one-minute moment.
Dr. Friday 0:12
One way to reduce your taxes and make sure you're maximizing your 401K. You have not yet hit the last day of this year to put money into your 401K, especially an employer 401K. You have to have it come out of your paycheck. So if you haven't received your last paycheck yet, you might want to think about maximizing your 401K. Maybe you can put a little bit more in that it's a huge saving. Whatever your tax bracket, you're going to be able to save that deduction. So putting more money aside for the rainy day and save taxes today is the perfect combination. And we're almost at the time where you won't be able to do it until next year. So if you got questions, call 615-367-0819.
Announcer 0:51
You can catch the Dr. Friday call-in show live every Saturday afternoon from 2 pm to 3 pm on 99.7 WTN.