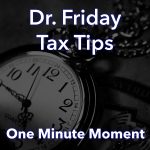 Dr. Friday 0:00
Good day. I'm Dr. Friday, President of Dr. Friday's Tax and Financial firm. To get more info go to www.drfriday.com. This is a one-minute moment.
Dr. Friday 0:12
And many of you have probably filed your taxes, you're ready to move on but think about 2023 now. We may be done with 2022. Some of you may not be, and if you are not going to be filing yet, make sure that extension is in. But if you have filed, in 2023 start looking at whether are you going to be selling real estate. Are you going to be thinking that you need to have some extra money? Are you gonna be doing stock sales, changing jobs, getting married, or getting divorced? These are huge things and if you don't have a tax person, you probably need one because those decisions can make huge tax decisions. And you can make those appointments after tax season at drfriday.com.
Announcer 0:52
You can catch the Dr. Friday call-in show live every Saturday afternoon from 2 pm to 3 pm on 99.7 WTN.