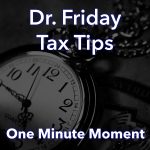 Dr. Friday 0:00
Good day. I'm Dr. Friday, President of Dr. Friday's Tax and Financial firm. To get more info go to www.drfriday.com. This is a one-minute moment.
Dr. Friday 0:13
If you haven't filed your taxes yet and you're like, "I can't afford it, I don't have the ability, I have a very small amount of money." What you do want to know is whether there are some free services if you want to go to irs.gov. They list several online services if you're a senior or someone that has the ability to drive. Aarp.org has locations that they have opened to help you prepare your taxes. So there's no excuse not to file taxes. You can either file them for free online, or you can go to some of the locations open in your neighborhood. Not filing should not be an option. Catch us at drfriday.com.
Announcer 0:51
You can catch the Dr. Friday call-in show live every Saturday afternoon from 2 pm to 3 pm on 99.7 WTN.