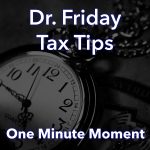 Dr. Friday 0:00
Good day. I'm Dr. Friday, President of Dr. Friday's Tax and Financial firm. To get more info go to www.drfriday.com. This is a one-minute moment.
Dr. Friday 0:13
If you are part of the US Air Force member or in the combat zone and you receive benefits, make sure you're dealing with someone that does taxes for the people in the military. You have certain exclusions, and certain advantages, even including moving and relocating. Most of us that are not part of the military do not claim these, but if you're in the military, there are a specific number of tax codes that apply just to you. If you need help filing your taxes, you want to go to drfriday.com. If you just have a question, all you have to do is send it to friday@drfriday.com.
Announcer 0:51
You can catch the Dr. Friday call-in show live every Saturday afternoon from 2 pm to 3 pm on 99.7 WTN.