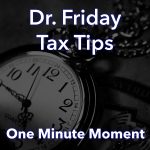 Dr. Friday 0:00
Good day. I'm Dr. Friday, President of Dr. Friday's Tax and Financial firm. To get more info go to www.drfriday.com. This is a one-minute moment.
Dr. Friday 0:12
I want to make sure that you have looked at, we're almost done with the first quarter guys of this year. If you filed your taxes and you owed money, you need to review your W-4. If this was because of a certain situation where you sold some stock or you sold a piece of land and you ended up with a larger capital gain, boom, that's not a problem. But make sure that every year you shouldn't have to be writing checks if your basic income isn't changing. If you don't know how to resolve that, you need to call me that's what I do, 615-367-0819 email friday@drfriday.com Let's take care of you to make it right.
Announcer 0:51
You can catch the Dr. Friday call-in show live every Saturday afternoon from 2 pm to 3 pm on 99.7 WTN.