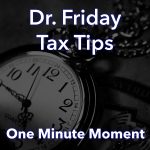 Dr. Friday 0:00
Good day. I'm Dr. Friday, President of Dr. Friday's Tax and Financial firm. To get more info go to www.drfriday.com. This is a one-minute moment.
Dr. Friday 0:12
Remember that in May of 2022, we had a federally declared disaster in Tennessee. If you are one of those that were affected, you can change your 2021 or add it to your 2022 if you have actual losses. This is important. Nowadays, we can't actually claim a loss. If your house burns down and it's not a federal disaster, then it's not going to fall on your tax return. But if you did get affected by these storms, you need to make sure you've looked over your taxes. Talk to your tax person. If you have someone, make sure they're giving you every single dollar you're entitled to.
Announcer 0:46
You can catch the Dr. Friday call-in show live every Saturday afternoon from 2 pm to 3 pm on 99.7 WTN.