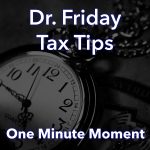 Dr. Friday 0:00
Good day. I'm Dr. Friday, President of Dr. Friday's Tax and Financial firm. To get more info go to www.drfriday.com. This is a one-minute moment.
Dr. Friday 0:13
If you need help filing taxes, hey, you guys have heard me on the radio for more than 13 years. If you need help dealing with the IRS again, hello, I'm right here in Brentwood, Tennessee, but if you need help with your gallbladder, I'm not that kind of doctor. Okay? This is Dr. Friday's tax and financial firm, not a medical doctor. Just for people to know, we get a lot of emails on that. And if you need help with those things, you are going to drfriday.com and click on appointments. You can call us at 615-367-0819. That's a great way to reach us. You can also email friday@drfriday.com. Call you later.
Announcer 0:52
You can catch the Dr. Friday call-in show live every Saturday afternoon from 2 pm to 3 pm on 99.7 WTN.