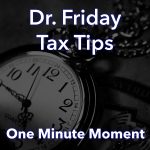 Dr. Friday 0:00
Good day. I'm Dr. Friday president of Dr. Friday's tax and financial firm. To get more info go to www.drfriday.com. This is a one-minute moment.
Dr. Friday 0:12
Today is March 15, a very important day for anyone that has a partnership with multi members, LLC with multi members, a corporation, a sub s corporation, a trust, depending on your deadline dates. These are important days because guess what? Nonprofits even. Today you need to have filed your return or file an extension. Nothing wrong with having an extension and check with your tax person. If they are important if they're supposed to be handling that for you. Double-check because the penalties for not filing a tax return on time for businesses can be in the 1000s. if you need help today call us at 615-367-0819.
Announcer 0:52
You can catch the Dr. Friday call-in show live every Saturday afternoon from 2 pm to 3 pm right here on 99.7 WTN.