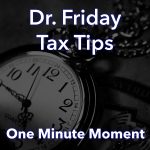 Dr. Friday 0:00
Good day. I'm Dr. Friday president of Dr. Friday's tax and financial firm. To get more info go to www.drfriday.com. This is a one-minute moment.
Dr. Friday 0:12
I'm an enrolled agent licensed by the Internal Revenue Service to do taxes and representation. So anyone that hasn't filed taxes for a number of years or maybe you keep getting a lot of love letters from the IRS and you just feel overwhelmed, you don't know what to do or how to deal with it. Guess what? I can help you. As an enrolled agent, I can represent you in front of the IRS. We can help make a deal we can help make you non-collectible. We can do an offering compromise or a fresh start. These are options you have instead of just putting your head in the sand or praying that they don't take your paycheck. You need to call us at 615-367-0819.
Announcer 0:52
You can catch the Dr. Friday call-in show live every Saturday afternoon from 2 pm to 3 pm right here on 99.7 WTN.