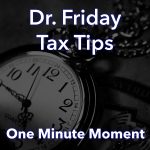 Dr. Friday 0:00
Good day. I'm Dr. Friday, president of Dr. Friday Tax and Financial Firm. To get more info, go to www.drfriday.com. This is a one minute moment.
Happy Holidays, Merry Christmas and all the other traditional words that we like to share because you know what? It's Christmas. And it's a wonderful day. A day for us all to remember, at least for myself about family, about love. I had the most wonderful time and many of you guys may know that I am crazy about floats and Christmas parades and we have had a great Christmas season. And hopefully, you have enjoyed yourself and you're getting ready to finish up and wind up this year. And you've got a few more days to think about possibly putting money aside for retirement or contributing to IRAs can still be put off till next year.
Maybe you need help. Check out the web www.drfriday.com.
Announcer 0:52
You can catch the Doctor Friday Call-in Show live every Saturday afternoon from 2pm to 3pm right here on 99.7 WTN.7 WTN.