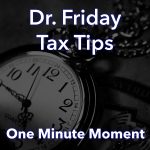 Dr. Friday 0:00
Good day. I'm Dr. Friday, president of Dr. Friday Tax and Financial Firm. To get more info, go to www.drfriday.com. This is a one minute moment.
I had an email come in today asking about the health insurance penalty. Do remember that in 2019 individuals do not have to prove that they have health insurance. It doesn't mean if you're in the marketplace, you do not still have to file your 1095-A. If they've been assisting in your health insurance, you're still going to have to balance that out with actual income, but you will not see the penalty if you did not have health insurance.
If you need help with your taxes, all you need to do is go to my website at www.drfriday.com and set up your tax appointment today. Or you can email friday@drfriday.com or call me at (615) 367-0819.
Announcer 0:52
You can catch the Doctor Friday Call-in Show live every Saturday afternoon from 2 pm to 3 pm right here on 99.7 WTN.7 WTN.