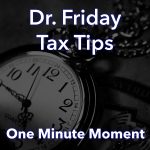 Dr. Friday 0:00
Good day! I'm Dr. Friday, president of Dr. Friday's Tax and Financial Firm. To get more info go to www.drfriday.com. This is a one minute moment.
Time to start over. Time to think fresh time to get caught up on back taxes. It's almost the New Year's and it's time for you to start thinking about how can I start out 2020 different than what I've done in 2019 or prior. It's easy.
Give me a call at 615-367-0819 to set-up a tax appointment. Let's get you straight now. Let's find out why the IRS is showing what you owe. Make sure you're in compliance, make a deal with the IRS. We might be able to qualify you for an offer and compromise, a payment plan. But the first thing to go to the website drfriday.com and set up an appointment today.
Announcer 0:52
You can catch the Dr. Friday Call-in Show live every Saturday afternoon from 2 pm to 3 pm right here on 99.7 WTN.