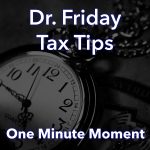 Dr. Friday 0:00
Good day. I'm Dr. Friday president of Dr. Friday's tax and financial firm. To get more info go to www.drfriday.com. This is a one minute moment.
Dr. Friday 0:12
Remember mortgage interest may be tax-deductible. I say maybe because of the standard deductions now being so high. Many people have a difficult time actually meeting them. But if you do have a mortgage, the question is, do you have a second? Because depending on the interest paid on your equity lines or lines of credit, are deductible based on it? Was it tied to the house? Was it actually used in the house or did you pay off student loans or pay off credit card debt and then use it to consolidate or buy a second home with that line of credit? If you did, it is no longer a tax deduction against that home. If you need help, call 615-367-0819.
Announcer 0:52
You can catch the Dr. Friday call-in show live every Saturday afternoon from 2 pm to 3 pm right here on 99.7 WTN.