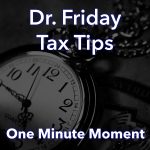 Dr. Friday 0:00
Good day. I'm Dr. Friday, President of Dr. Friday's Tax and Financial firm. To get more info go to www.drfriday.com. This is a one-minute moment.
Dr. Friday 0:12
At this point, you've received all of your tax documents, most likely, unless you have some investment accounts. Some of those are dribbling still in. But most of you can sit down now and do your taxes. So make sure if you're doing them yourself, you're just considering you got everything double check. Make sure you put in all of your interest, your stock, and your dividends, and make sure you've got all of your income. If you made a qualified charitable deduction, make sure you back that out before it shows up on 1040 on the proper forms. If you don't know how to fill out a tax return, you need to call us at 615-367-0819, so we can get you on the calendar and help you out.
Announcer 0:51
You can catch the Dr. Friday call-in show live every Saturday afternoon from 2 pm to 3 pm on 99.7 WTN.