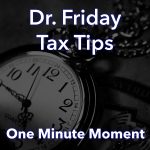 Dr. Friday 0:00
Good day. I'm Dr. Friday, President of Dr. Friday's Tax and Financial firm. To get more info go to www.drfriday.com. This is a one-minute moment.
Dr. Friday 0:12
If you are still trying to deal with 2020/2021 tax issues. I know I have quite a few people that say "Oh, just file an extension." I'm still dealing with this. And that's not a problem. Filing extension is great. But remember, filing an extension does not extend the money you owe. It only delays the paperwork. So if you're thinking that I'm just going to file an extension and imma think about this come October, or in some cases, you've filed extensions the last four years and you've never really thought about it, you really need to put some thought to it. Easiest thing to do is just book an appointment at drfriday.com. Let us help you get started the right way.
Announcer 0:51
You can catch the Dr. Friday call-in show live every Saturday afternoon from 2 pm to 3 pm on 99.7 WTN.