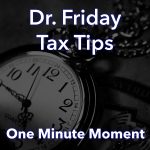 Dr. Friday 0:00
Good day. I'm Dr. Friday, President of Dr. Friday's Tax and Financial firm. To get more info go to www.drfriday.com. This is a one-minute moment.
Dr. Friday 0:12
Preparing taxes. It's that time of the year. You can't think of anything else. But if you're a business owner, what you should also be thinking, have you filed your business license renewal that was due or is due by April? You have your annual reports that are due. Also, with 85,000 new revenue officers out, there is your bookkeeping in line. If you are not tracking things properly, if you can't justify the numbers that you have on your tax return, you might be thinking that we need to start thinking about that. Setting up this is a new year. Let's start doing things the right way so you don't lose sleep and worry that the IRS is going to come back. Go to drfriday.com
Announcer 0:51
You can catch the Dr. Friday call-in show live every Saturday afternoon from 2 pm to 3 pm on 99.7 WTN.