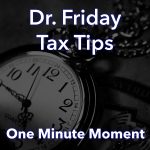 Dr. Friday 0:00
Good day. I'm Dr. Friday, President of Dr. Friday's Tax and Financial firm. To get more info go to www.drfriday.com. This is a one-minute moment.
Dr. Friday 0:12
Interest expense. Keep in mind that back on the Tax Cut and Jobs Act of 2017, they reduced the amount of mortgage interest that you can have. Many people basically sold their homes and then they turn around and purchase a new home. Prior to that change, you could have up to a million dollars but as of 2018, any home you've purchased moving forward or refinance $750,000 is the maximum mortgage you can have on your home. So if you have a mortgage for more than that, you cannot write off 100% of your mortgage interest. Call me at 615-367-0819.
Announcer 0:51
You can catch the Dr. Friday call-in show live every Saturday afternoon from 2 pm to 3 pm on 99.7 WTN.