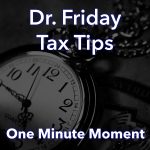 Dr. Friday 0:00
Good day. I'm Dr. Friday, president of Dr. Friday Tax and Financial Firm. To get more info go to www.Drfriday.com. This is a one minute moment.
Virtual currency owners are advised that they are sending out a letter a 6173 or 6174 to pay back taxes. That's right. You could very likely be the recipient of a sweet little love letter saying Wallah, we know you brought in some virtual currency and now here's your estimated bill with a penalty of 100% of what they estimate you do you have to do in taxes. So that being said, make sure that you're reporting all of your income, all of your deductions. That way you don't have to really sleep or lose sleep at night when it comes to your taxes. If you need help, call me at 615-367-0819
Announcer 0:52
You can catch the Dr. Friday call-in show live every Saturday afternoon from 2 to 3 pm right here on 99.7 WTN.