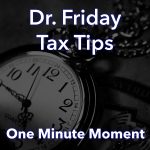 Dr. Friday 0:00
Good day. I'm Dr. Friday, president of Dr. Friday Tax and Financial Firm. To get more info go to www.Drfriday.com. This is a one minute moment.
Today a new law passed that we don't have to file taxes. No, its a joke. April Fools! That's right, nope. Taxes are part of the tax law and have been since the 1800s. It is something that will continue actually since 1914. That being said, you want to make sure that you're not paying more than your share. So if you're not sure you totally understand what your tax liabilities are. Or every year you end up paying more and more money in taxes and you're like this doesn't make any sense. You need to not only do taxes, but you need to do tax planning so that you understand your taxes. All you have to do is give me a call at 615-367-0819.
Announcer 0:51
You can catch the Dr. Friday call-in show live every Saturday afternoon from 2 to 3 pm right here on 99.7 WTN.