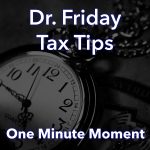 Dr. Friday 0:00
Good day. I'm Dr. Friday, president of Dr. Friday Tax and Financial Firm. To get more info, go to www.Drfriday.com. This is a one minute moment.
There's a new tax form for filers taking the qualified business income deduction. The 20% right offers self-employed individuals and owners of the past two entities. The form is 8995. It's a simpler version for taxpayers with income below certain thresholds while the bigger 8995 A is for the big fully setup. If you have certain multiple locations, lots of rentals, it gives you a little bit more room to make sure you're making the right deduction. They have refined it made it a little bit more understandable. So if you're filing your own tax return, you might want to revisit last year because they found lots of errors. If you need help go to Drfriday.com.
Announcer 0:51
You can catch the Dr. Friday call-in show live every Saturday afternoon from 2 to 3 pm right here on 99.7 WTN.