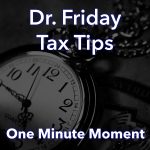 Dr. Friday 0:00
Good day. I'm Dr. Friday, president of Dr. Friday Tax and Financial Firm. To get more info go to www.Drfriday.com. This is a one minute moment.
Tax preparation is something I do every day It feels like 365 days a year, not quite. But the point is where a year-round office, make sure that whoever you're dealing with you have the person that's going to be there come July or August that may have to answer a question when Uncle Sam sends you a sweet little love letter saying they've changed your tax return. They found something that wasn't reported. Make sure you're dealing with someone that's going to be there not only from January through April but from January through December so that they can help you resolve any issues that you have with Uncle Sam if you need help with that or any other tax issues. Call me at 615-367-0819.
Announcer 0:52
You can catch the Dr. Friday call-in show live every Saturday afternoon from 2-3 pm right here on 99.7 WTN.