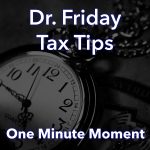 Dr. Friday 0:00
Good day. I'm Dr. Friday, president of Dr. Friday Tax and Financial Firm. To get more info, go to www.drfriday.com. This is a one minute moment.
A Roth IRA or a standard traditional IRA. Under the current tax law, I've been talking to quite a few clients that are married couples making less than $100,000. And they're still contributing to a standard IRA. In my personal opinion, I am not a financial planner. But if I can put something away at 12%, I'd rather do it on a Roth, then wait and have to pay tax later on it. So make sure that you're using the right tools that are going to be best for you. If you're not too sure where to start. I can certainly help you with that.
Or if you just need some tax questions answered. Call me at (615) 367 0819.
Announcer 0:52
You can catch the Doctor Friday Call-in Show live every Saturday afternoon from 2 pm to 3 pm right here on 99.7 WTN.7 WTN.