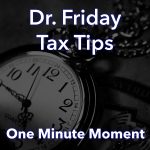 Dr. Friday 0:00
Good day. I'm Dr. Friday, president of Dr. Friday Tax and Financial Firm. To get more info, go to www.drfriday.com. This is a one minute moment.
Taking a tax deduction. Do I have to have the receipts? So often, I'm asked this in my office when people come in. Because let's be honest, receipts, especially for busy people can get lost, can fade away, the ink just dissolves right off of it. I will tell you that if it's under $250,000,  receipts could be a possibility that we could get away with not having to have it with the right situation. Your best bet is with the new apps that we have, just take a picture of the receipt. Many of those apps will turn it into a PDF.
Start saving them that way so that way you never have to worry about losing your receipts and save on your tax dollars.
Announcer 0:52
You can catch the Doctor Friday Call-in Show live every Saturday afternoon from 2 pm to 3 pm right here on 99.7 WTN.7 WTN.