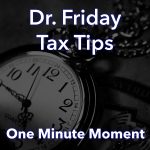 In this one-minute moment with Dr. Friday, delve into the advantages of opting for a split tax refund. Whether you're looking to manage your finances by directing a portion into savings or navigating the complexities of shared refunds in a marriage, Dr. Friday sheds light on how to make the most of this option. Plus, learn how to get personalized advice on this topic and more.
Transcript
G'day, I'm Dr. Friday, president of Dr. Friday's tax and financial firm. To get more info go to www.drfriday.com. This is a one-minute moment.
If you're filing your own tax returns, one of the options you have nowadays is a split refund. That comes into hand in a couple different situations. One is if you want to actually set aside some money into a savings account versus what you're going to use, but also sometimes husbands and wives. What we often find is that sometimes your husband and wife married, but maybe you want to know how much of the refund was yours, how much refund was the wives, and then putting the money back into their independent bank accounts. You know, if you need help with that, or if you need to understand more about what the benefits of doing these kind of things could do, give us a call at 615-367-0819, or go to drfriday.com.
You can catch the Dr. Friday call and show live every Saturday afternoon from 2 to 3 p.m. right here on 99.7 WTN.