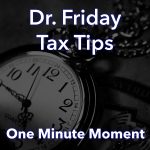 Dr. Friday 0:00
Good day. I'm Dr. Friday president of Dr. Friday's tax and financial firm. To get more info go to www.drfriday.com. This is a one minute moment.
Dr. Friday 0:13
Student loan interest. Remember, in some cases, parents are actually paying the student loan interest, but it was for your own student loans. There is a way for your parents theoretically to gift that interest to you, and you take it off on your tax return. So there are ways to do that even with mortgages. If they're paying the mortgage, but you're paying it, you might want to find a way to see if some of those deductions or credits might be yours. If you need help understanding what you might be missing on your tax returns, you need to call us at 615-367-0819 or check us out on the web at drfriday.com.
Announcer 0:52
You can catch the Dr. Friday call-in show live every Saturday afternoon from 2 pm to 3 pm right here on 99.7 WTN.