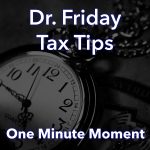 Dr. Friday 0:00
Good day. I'm Dr. Friday, president of Dr. Friday Tax and Financial Firm. To get more info, go to www.drfriday.com. This is a one minute moment.
Tax deductions on rental properties. Remember, besides the fact that you can take off all the maintenance that you have on that property, you're going to depreciate the property mortgage interest, property taxes, insurance, if you have a management company, etc, etc. Don't forget in 2018, the 20% QBI qualifies for rental properties.
So if you're not sure what QBI is, you definitely need to give me a call at (615) 367-0819. You also need to go to the website and set up your appointment. The calendar is open and filling up fast. If you need hel[, go to www.drfriday.com.
Announcer 0:52
You can catch the Doctor Friday Call-in Show live every Saturday afternoon from 2 pm to 3 pm right here on 99.7 WTN.7 WTN.