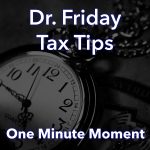 Dr. Friday 0:00
Good day. I'm Dr. Friday, president of Dr. Friday Tax and Financial Firm. To get more info, go to www.drfriday.com. This is a one minute moment.
And it's Black Friday! Time to go spend all of our money! And the fact is, you're not going to probably have a whole bunch on your mind, especially not taxes. But I do want to tell you, it's almost tax day. We've got 30 some days left and Christmas is going to be here and next thing you know, I'm talking about making sure you make your quarterlies and you're saving your tax papers and you're out there spending money and building up your credit card debt.
So what it comes down to you guys, is when it comes time to start thinking about your taxes again after this crazy holiday season, you just need to call me at (615) 367 0819. My calendar is open you can start setting up your appointments for tax day.
Announcer 0:52
You can catch the Doctor Friday Call-in Show live every Saturday afternoon from 2pm to 3pm right here on 99.7 WTN.