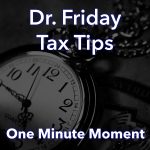 Dr. Friday 0:00
Good day. I'm Dr. Friday, president of Dr. Friday Tax and Financial Firm. To get more info, go to www.drfriday.com. This is a one minute moment.
Happy Thanksgiving. Are you guys all ready for Black Friday? I know I am. I love Black Friday. And it's always, you know, just one of those things that a family tradition in our household we make our lists we cut out, we try to figure out how and who's going to be where, what time. I have to tell you – it's starting so early nowadays. I barely get through Thanksgiving dinner before we're getting in the car and going to start our shopping sprees, getting lined up at the good old Walmart to make sure we don't miss out on any of those deals. I hope you guys had a wonderful Thanksgiving.
I hope that you guys have a great new year and all the blessings are with you. Talk to you later.
Announcer 0:52
You can catch the Doctor Friday Call-in Show live every Saturday afternoon from 2pm to 3pm right here on 99.7 WTN.