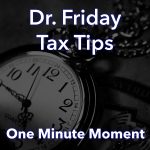 Dr. Friday 0:00
Good day. I'm Dr. Friday, president of Dr. Friday Tax and Financial Firm. To get more info, go to www.drfriday.com. This is a one minute moment.
It is almost the time for us to get fat and full and the big Turkey is going to be coming out of the oven. And just think about it. We don't want to have to really think about taxes. So let's not. Let's just enjoy the fact that you're going to have family, friends coming over hopefully. Make some time to enjoy all the good things that you have had for this year. Make sure you take time to be thankful for the things that we're able to do. And I am thankful for all my listeners and being able to do what I've done for the last 20 years.
So if you have any help or you need some help with taxes, give me a call (615) 367 0819 or check me out on the web at www.drfriday.com.
Announcer 0:52
You can catch the Doctor Friday Call-in Show live every Saturday afternoon from 2pm to 3pm right here on 99.7 WTN.