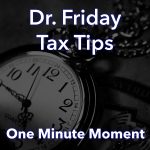 Dr. Friday 0:00
Good day. I'm Dr. Friday, president of Dr. Friday Tax and Financial Firm. To get more info, go to www.drfriday.com. This is a one minute moment.
Taxes. What a fascinating world. I love taxes. Taxes are constantly changing and every one of you have something different about your tax return. So make sure when you're talking to your neighbor, and they're like, "Oh, yeah, you know what, I got this huge refund, but you did great" and all this. Make sure you understand your personal tax laws. It will be different and sometimes people leave money on the table because they're just a little afraid of knowing what tax deductions they should take and not take.
Get a second opinion on your taxes. Or if you just need help figuring out how to get settled with the IRS call me (615) 367 0819.
Announcer 0:52
You can catch the Doctor Friday Call-in Show live every Saturday afternoon from 2pm to 3pm right here on 99.7 WTN.