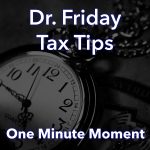 Dr. Friday 0:00
Good day. I'm Dr. Friday president of Dr. Friday's tax and financial firm. To get more info go to www.drfriday.com. This is a one-minute moment.
Dr. Friday 0:12
We are talking taxes people, this is what it is. We only have a few more days of tax season left, most likely you're gonna have a very difficult time getting your taxes done by a professional. That doesn't mean you don't have the time to do it after April 15. But if you haven't paid the money, you really need to consider if that's an option at all. If it isn't, filing the extension is still important. All that being said make sure you have your tax documents and you've updated your address with the IRS so you haven't missed out on any of the stimulus money. These are important things to do no matter what and making sure that someone else hasn't claimed you as a dependent is important as well. If you need help, go to drfriday.com.
Announcer 0:52
You can catch the Dr. Friday call-in show live every Saturday afternoon from 2 pm to 3 pm right here on 99.7 WTN.