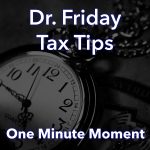 Dr. Friday 0:00
Good day. I'm Dr. Friday president of Dr. Friday's tax and financial firm. To get more info go to www.drfriday.com. This is a one-minute moment.
Dr. Friday 0:12
We are almost through the end of tax season we are on the last day of March. That means you need to be thinking if you don't have a tax appointment already, you haven't prepared your taxes, my suggestion is this: Go ahead and prepare an extension, prepare the extension and send in some money, if you think you're going to Oh, I realize that you're thinking, "I don't have any money." File the extension anyways. The penalty for failure to file is ridiculous. It's 25%, where if you don't pay it only points 5% per month. These are huge differences. If you need help to file that extension, call us at 615-367-0819.
Announcer 0:52
You can catch the Dr. Friday call-in show live every Saturday afternoon from 2 pm to 3 pm right here on 99.7 WTN.