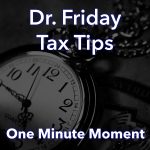 Dr. Friday 0:00
Good day. I'm Dr. Friday president of Dr. Friday's tax and financial firm. To get more info go to www.drfriday.com. This is a one-minute moment.
Dr. Friday 0:12
Due to the hardships of 2020 many people had to reach out to other situations. Maybe you took early social security which may have limited your earnings. Or maybe they're also getting long-term disability but you also had somebody in the house that was working. So you need to determine long-term social security in itself from disability social security is not taxable unless you have other income. Same thing with any social security benefits. But if you're working a job on the side you might be making your social security not only taxable but if it's early social security you might be paying back $1 for every $2 you earn above the limitations.
Announcer 0:52
You can catch the Dr. Friday call-in show live every Saturday afternoon from 2 pm to 3 pm right here on 99.7 WTN.