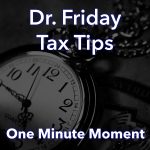 Dr. Friday 0:00
Good day. I'm Dr. Friday president of Dr. Friday's tax and financial firm. To get more info go to www.drfriday.com. This is a one-minute moment.
Dr. Friday 0:12
Making sure that your accounting is in order is essential for filing taxes but also for understanding how much money you should be paying quarterly. Quarterly is truly based on the year before. So when you filed your 2019, you were using the estimates at 19 to pay towards 2020. But we all know that some businesses go up and down each year. So sometimes you might need to make adjustments to those estimates so you pay in more than enough to cover. No one likes to have a bill on April the 15th for a couple of $1,000. So making sure your tax records are in line if you don't know how or don't have it you need to call us at 615-367-0819.
Announcer 0:52
You can catch the Dr. Friday call-in show live every Saturday afternoon from 2 pm to 3 pm right here on 99.7 WTN.