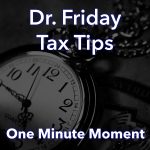 Dr. Friday 0:00
Good day. I'm Dr. Friday president of Dr. Friday's tax and financial firm. To get more info go to www.drfriday.com. This is a one-minute moment.
Dr. Friday 0:13
We had some big changes again at the end of 2018 to 2019 about divorce. Up until that point, if you paid somebody alimony, the person's pain would reduce it would take it off as a tax deduction and the person receiving would actually pay tax on it. Now, it's a little different. If you've divorced after the end of 2018, then you now don't pay tax and the person paying it doesn't get to deduct it. Same thing with child support, which has never been a deduction on the tax return. So if you're not sure if you should or should not be reporting it, you need to call us at 615-367-0819.
Announcer 0:52
You can catch the Dr. Friday call-in show live every Saturday afternoon from 2 pm to 3 pm right here on 99.7 WTN.