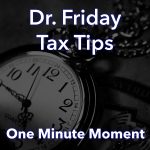 Dr. Friday 0:00
Good day. I'm Dr. Friday, President of Dr. Friday's Tax and Financial firm. To get more info go to www.drfriday.com. This is a one-minute moment.
Dr. Friday 0:12
Second home deduction. I will tell you I seem to have more people nowadays than there has been in the past that are actually living or actually purchasing second homes not as rental properties but as a true second home. Your cabin on the lake, for example, may provide you with more than just the relaxation that we all like to do. It could be a deduction for tax purposes. A qualified second home must have a place to sleep, a toilet and a kitchen facility which could also be guessed what a camper so you may be able to write the interest off on a second home even on your camper. If you need help. 615-367-0819
Announcer 0:51
You can catch the Dr. Friday call-in show live every Saturday afternoon from 2 pm to 3 pm on 99.7 WTN.