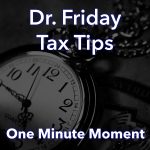 Dr. Friday 0:00
Good day. I'm Dr. Friday, President of Dr. Friday's Tax and Financial firm. To get more info go to www.drfriday.com. This is a one-minute moment.
Dr. Friday 0:12
Business succession planning. It's not necessarily part of the tax picture. But to be quite honest, I think all business owners need to think a little bit about what's going to happen when you may not want to continue doing what you do. Many people will be able to sell their businesses, but some people cannot. What's going to happen to your business? Whenever you start a business? One of my professors always said the moment you start it, you should already have an exit plan from it. So that's the kind of thing I think we want to start out. We're getting ready to go into a new year. Maybe now's the time to start planning. Not only that, but making sure you have a will, making sure your trust and other documents are all in order.
Announcer 0:51
You can catch the Dr. Friday call-in show live every Saturday afternoon from 2 pm to 3 pm on 99.7 WTN.