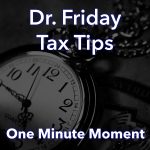 Dr. Friday 0:00
Good day. I'm Dr. Friday, President of Dr. Friday's Tax and Financial firm. To get more info go to www.drfriday.com. This is a one-minute moment.
Dr. Friday 0:12
Cryptocurrency. It is everywhere nowadays. And one of the tax questions on your tax return is: Do you own cryptocurrency? And many people will say "no," and then I find out later they told me Well, I had a little bit I've never done anything with it. The question is pretty simple. If you own it, you need to say yes; if you're buying, selling, trading, or bartering, it is income. If you do not report it, it is tax fraud. It's that simple. So you need to make sure if you are using or buying into, or holding cryptocurrency that, you answer the question "yes," and if you're buying or selling it, treat it like a stock. Make sure you're reporting all of your gains and losses.
Announcer 0:51
You can catch the Dr. Friday call-in show live every Saturday afternoon from 2 pm to 3 pm on 99.7 WTN.