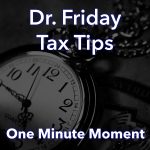 Dr. Friday 0:00
Good day. I'm Dr. Friday, president of Dr. Friday Tax and Financial Firm. To get more info go to DrFriday.com. This is a one-minute moment.
Dr. Friday 0:12
This I like to think of is more of the hidden tax, the alternative minimum tax, or AMT tax. A lot of people don't really know about it until they actually have to pay it. The tax cut and jobs act of 2017 increased the AMT exemption amounts, which really hadn't changed in like 20 years. Now it will actually go with inflation. But remember, AMT can kick into higher income, interest income from private bonds, large capital gains, and exercising incentive stock options. That's a huge one when your company gives you stock and you may have to pay AMT which is higher than capital gains rates.
Announcer 0:51
You can catch the Dr. Friday call-in show live every Saturday afternoon from 2 pm to 3 pm right here on 99.7 WTN.