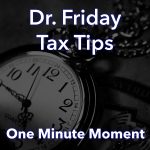 Dr. Friday 0:00
Good day. I'm Dr. Friday, president of Dr. Friday Tax and Financial Firm. To get more info go to DrFriday.com. This is a one-minute moment.
Dr. Friday 0:12
Child tax credits on the American Rescue Plan we call the ARP act of 2021. They temporarily expanded the child tax credit for allowable families to claim the credit no matter on income level, they also increase the maximum amount you will receive for children under the age of six is $3,600. Children between six and through the age of 17 is $3,000. This is fully refundable and many people may have started to receive a portion of that starting back in July. So if you are having children or you're claiming this and you need help, all you have to do is call me at 615-367-0819.
Announcer 0:51
You can catch the Dr Friday call-in show live every Saturday afternoon from 2pm to 3pm right here on 99.7 WTN.