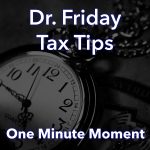 Dr. Friday 0:00
Good day. I'm Dr. Friday, President of Dr. Friday's Tax and Financial firm. To get more info go to www.drfriday.com. This is a one-minute moment.
Dr. Friday 0:12
The AMT alternative minimum tax exemption for 2022 is $75,900. It begins to phase out. If you are a married couple filing jointly, the exemption is $118,000 and $100,000. And you have the ability to hit exemptions on this, remember. This is a tax code within the tax code. So if you are making 75,900 as a single person or 118,100 as a married couple, you could also be paying AMT tax above standard taxes questions call me at 615-367-0819.
Dr. Friday 0:52
You can catch the Dr. Friday call-in show live every Saturday afternoon from 2 pm to 3 pm on 99.7 WTN.