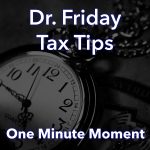 Dr. Friday 0:00
Good day. I'm Dr. Friday, President of Dr. Friday's Tax and Financial firm. To get more info go to www.drfriday.com. This is a one-minute moment.
Dr. Friday 0:12
The tax year 2022 maximum earned income tax credit amount is $6,935 for a qualified taxpayer who has three or more qualified children; that's up from 6728 in 2021. Remember that this has to be your children biologically or they have to be legally adopted or if they're in the system, then you have to have custody of the children. If you have questions on this because claiming your girlfriend's kids is not a legal Child Tax Credit. You can reach us at 615-367-0819.
Announcer 0:49
You can catch the Dr. Friday call-in show live every Saturday afternoon from 2 pm to 3 pm on 99.7 WTN.