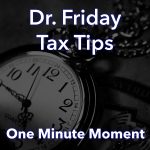 Dr. Friday 0:00
Good day. I'm Dr. Friday, president of Dr. Friday Tax and Financial Firm. To get more info go to DrFriday.com. This is a one-minute moment.
Dr. Friday 0:12
For anyone that has had a large real estate sale maybe creating capital gains are all of my entrepreneurs, remember estimated tax payments. I know we all hate doing them. It's a part of life. But remember you have to file estimated tax payments to avoid penalties that are just as bad. So if you basically want to avoid, you need to pay in at least 110% of your 2020 taxes or 90% of what you owed in 2021. If you have had an unusual year again, I've had a lot of people selling real estate creating capital gains, you need to be making an estimated payment so you do not owe taxes.
Announcer 0:51
You can catch the Dr. Friday call-in show live every Saturday afternoon from 2 pm to 3 pm right here on 99.7 WTN.