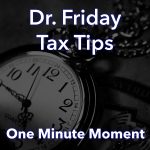 Dr. Friday 0:00
Good day. I'm Dr. Friday, President of Dr. Friday's Tax and Financial firm. To get more info go to www.drfriday.com. This is a one-minute moment.
Dr. Friday 0:12
The IRS is busily hiring 85,000 new people to do collections. That's right. Most of those people are going to be brought in as collections. I wish they'd be brought in for customer service. But you know what? It's our tax dollars, and they're going to spend them how they want. That being said, if you have not, or you are not up to date with the IRS or maybe your bookkeeping is not really up to power, you're more of a paper-pencil kind of guy. And if the IRS comes knocking, are you going to be prepared to be able to justify the numbers on your tax return? If you are not, you need to call us to help you make your audit proof at 615-367-0819.
Announcer 0:51
You can catch the Dr. Friday call-in show live every Saturday afternoon from 2 pm to 3 pm on 99.7 WTN.