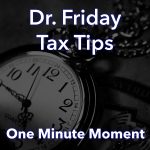 Dr. Friday 0:00
Good day. I'm Dr. Friday, President of Dr. Friday's Tax and Financial firm. To get more info go to www.drfriday.com. This is a one-minute moment.
Dr. Friday 0:12
When you're doing taxes, first thing you need to make sure of is that you have all your tax documents, right? So if you worked, you have a W2. And also, if you're an entrepreneur, you need to track all income, not just the 1099 that may or may not have been issued. IRS does track some of these information through other sources. So that means that if you only report 1099 income, you might want to look at how much money went through your bank account. That is information that is open to the IRS if they do an audit. You need help, you need to call us at 615-367-0819.
Announcer 0:51
You can catch the Dr. Friday call-in show live every Saturday afternoon from 2 pm to 3 pm on 99.7 WTN.