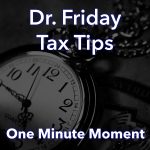 Dr. Friday 0:00
Good day. I'm Dr. Friday, President of Dr. Friday's Tax and Financial firm. To get more info go to www.drfriday.com. This is a one-minute moment.
Dr. Friday 0:12
We are in the middle of tax season, guys. It is busy and crazy. But if you are filing taxes and need help to file taxes, or maybe you haven't filed taxes in a number of years, you are listening to the right tax moment because that is what I do as an enrolled agent. I am licensed by the Internal Revenue Service. I have never and will never, well, I shouldn't say never, but I can't expect to ever work for the IRS. I work for you. I am kind of like Superman between you and the IRS. I put a shield, and if you need help dealing with the IRS or just need somebody that really knows tax law, you need to call me at 615-367-0819.
Announcer 0:51
You can catch the Dr. Friday call-in show live every Saturday afternoon from 2 pm to 3 pm on 99.7 WTN.