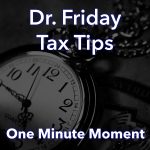 Dr. Friday 0:00
Good day. I'm Dr. Friday, President of Dr. Friday's Tax and Financial firm. To get more info go to www.drfriday.com. This is a one-minute moment.
Dr. Friday 0:12
For all of you that have purchased an EV car, you might want to go. We've been doing some returns, and we're finding out that some of these cars are not falling under the I.R.C. 30D. So the easiest way to do that is go to a website v i n d e c o d e r Vin decoder, it will tell you all the information that if it will meet the criteria for the tax credit, I'm finding that auto dealers don't know that information. Many of them are saying that you're going to qualify, but those cars were not all assembled in the United States. Give us a call if you have a question at 615-367-0819.
Announcer 0:51
You can catch the Dr. Friday call-in show live every Saturday afternoon from 2 pm to 3 pm on 99.7 WTN.