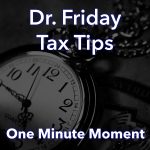 Dr. Friday 0:00
Good day. I'm Dr. Friday, president of Dr. Friday Tax and Financial Firm. To get more info, go to www.drfriday.com. This is a one minute moment.
The new W-4 for 2020 has been finalized and it is out there. And it's actually kind of unique. Part of it is they want you to go on to a website to find out what works. Keep in mind many people now work multiple jobs or you're married and both husband and wife work. And then there's a child that's 17 or 18. There's a child that's 12 or nine. How is all of that affecting your withholdings? I'll tell you it's affecting it quite a bit. So make sure that you've looked at the new W-4 form, especially if you're having troubles reconciling at the end of the year and you're writing a check every year. And you don't understand why it's most likely not having enough federal withholdings.
Announcer 0:52
You can catch the Dr. Friday Call-In Show live every Saturday afternoon from 2 pm to 3 pm right here on 99.7 WTN.