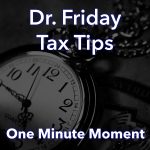 Dr. Friday 0:00
Good day. I'm Dr. Friday, president of Dr. Friday Tax and Financial Firm. To get more info go to www.drfriday.com. This is a one-minute moment.
Dr. Friday 0:13
We are getting ready to start our wonderful tax season for the tax year of 2021. And now we have to start thinking about documentation. When do we need to have it? How quickly can we get our taxes filed? And what's going to happen if we never received the stimulus money that was given to us in the year 2021? All these are wonderful questions and they're pretty easy to answer. And you know what, you need to do is pick up the phone and get an appointment with my office at 615-367-0819 or a faster way would go to my website, drfriday.com, and make an appointment today.
Announcer 0:51
You can catch the Dr. Friday call-in show live every Saturday afternoon from 2 pm to 3 pm right here on 99.7 WTN.