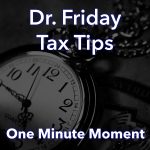 Dr. Friday 0:00
Good day. I'm Dr. Friday, president of Dr. Friday Tax and Financial Firm. To get more info go to www.drfriday.com. This is a one-minute moment.
Dr. Friday 0:12
We have made it through another crazy year. It is New Year's Eve and I know many of you are just sitting back saying, "Phew. I made it through 2021." Now we have to start thinking about taxes, start preparing, what do you need to have? Make sure you have that folder. Sit down tonight when you're making that New Year's resolution and let's make that resolution to be better at doing our taxes being more organized, getting out of IRS tax debt. This is possible people, we can do it this year. If you want to make that your New Year's resolution you need to call our office, 615-367-0819, or check us out at drfriday.com.
Announcer 0:51
You can catch the Dr. Friday call-in show live every Saturday afternoon from 2 pm to 3 pm right here on 99.7 WTN.